Get Ready to Vote
Register to vote or update your registration if you've moved or changed your name. 
Check your voter registration! It's always good to check the information your local election official has on file for you.  
Share an "I'm registered" image after registering, updating your registration, or checking your registration status and share widely on social media.   
Ask 10 people you know if they're registered to vote or if they need to update their registration. Make it a community affair by ensuring your family and friends are prepared to vote. 
If you're eligible to vote by mail in your state, request your ballot by mail as early as you can. 
Encourage your friends and family to request their mail-in ballot as early as possible if they're eligible to vote by mail in their state. 
Check VOTE411 to find your polling location, if you'll be voting in person.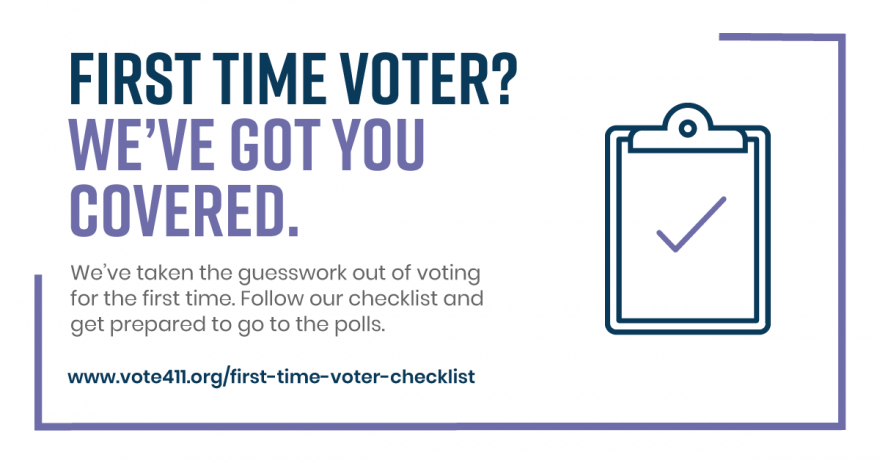 Know someone who will be voting for the first time? Share our First Time Voter Checklist to help make sure they're prepared.
Find out who's funding the candidates running for office on your ballot. (FollowTheMoney.org is a good resource for this.) 
Find out if any of the organizations you trust are endorsing any of the candidates on your ballot.
Use VOTE411 to print out a list of your preferred candidates so you can take it to the polls with you to help speed up the voting process.  
Share which candidates you're supporting with your friends and family. Share why! 
Learn about the ballot measures, if any, you'll be voting on. Who's funding them? What organizations are supporting or opposing them? 
Volunteer for an organization that is supporting or opposing a ballot measure you feel strongly about.  
Check if you need an ID to vote. Some states require it. 
Sign up as an organizational or individual partner for National Voter Registration Day.  
Have friends or family who speak Spanish? Let them know that VOTE411.org is fully translated into Spanish so they can find all the election information they need. 
Return your ballot as soon as you can. Don't forget to sign and seal it, as required. 
If returning your ballot by mail, make sure you added enough postage and return it by your state's deadline! 
If you are voting in person, make an Election Day plan. Find your polling place. Decide when you're voting and how you're getting there.  
Ask 10 friends and family to make an Election Day plan as well. 
Remind your friends and family to sign and seal their ballot and return it as soon as possible. 
Check polling hours. Know when the polls open and when they close. 
 Encourage your friends to vote early, if that's an option in your state. 
Secure the supplies you may need to protect yourself and others from COVID. The Center for Disease Control has great guidance for voting safely.  
Volunteer and Participate in Your Community
Reach out to your neighbors and friends to see if they need help mailing their ballot or getting to the polls. 
Remind your networks we're fewer than 100 days to Election Day! 
Research the candidates on your ballot. Find out who stands for what you care about!  
Sign up to volunteer with your local League of Women Voters.  
Sign up to be a poll worker and work to help voters! 
Talk to your friends and family about the issues you're prioritizing this year.  
Donate to a candidate or ballot measure you believe in!
Watch a candidate debate and talk to your friends about it.  
Host a debate watch party for friends and family on Zoom! Watch the debate and discuss it afterward. 
Ask your employer to provide paid time off for employees to vote.  
If you are a business owner, give your employees paid time off to vote. 
Check in with a young person in your life. Are they registered? Do they need help voting?  
Connect with a local campaign or nonpartisan organization and sign up to make phone calls, hang door hangers, write postcards, or otherwise help get out the vote!  
Host a virtual postcard writing party to encourage registered voters to vote.  
Order a yard sign or bumper sticker to support the candidates and issues you care about.  
Talk to kids about voting. Research shows, early exposure matters!  
See or hear a problem with voting in your area? Call the Election Protection Hotline at 866-OUR-VOTE for help.  
Volunteer to be an election observer through a local campaign or nonpartisan organization.  
Learn the difference between a poll worker and an election observer! 
Read a book/article about civil rights or voting rights.  
Now watch a movie about civil or voting rights! 
Read about how the 19th Amendment left behind many women, including black women, from equal voting opportunities.  
Volunteer, protest, donate, and make your voice heard on racial justice issues in your community.  
---
Prepared and paid for by the
Winona County Democratic-Farm-Labor Party
Winona County DFL
157 W. 3rd St, Suite J, Winona MN 55987
Email: WDFL@WinonaDFL.org
(507) 474-6099
Donations
Click on flag to go to Act Blue.
or Send check payable
to Winona County DFL
---
Copyright © 2021 · All Rights Reserved · Winona County DFL